If you are an expat, a non-citizen or an international student living and working in Denmark, you are required to have a Danish bank account. Now you can get a safe, digital and free Danish account easier than ever. Avoid the hassle of going to branch - you can apply directly on your mobile.
Lunar just opened our new regulated bank for EU citizens living, working and studying in Denmark. You'll get a Danish bank account you can link with your Nemkonto (Easy account), a Visa card without annual fees and you will join 150,000 people who already hold a Lunar bank account.
Try Lunar and get your national account in Denmark and English language banking app here. You need a Danish CPR, picture ID and a NemID to apply right now. 
Banking as easy as it gets
👉With Lunar you'll get all your banking in one app and a sleek black Visa card with a PIN you choose.
👋You get a great overview of your spend, can create interactive budgets and get instant notifications with every purchase
✊Save up with the personalised (and highly addictive) feature Goals and make your own saving rules
🙌You can arrange to have your bills paid automatically from your account (Betalingsservice) or pay bills just by taking a picture
🤟Transfer money to other Danish bank accounts for free. Lunar does not yet support international transfers from your account.  
Safe, free and mobile-only
Lunar is a regulated and digital Danish bank, and for the first time we are opening our doors for non-citizens living in Denmark. Lunar got its own banking license in 2019 and has built a digital bank from scratch allowing all users to get a bank account and Visa card for free. Being a regulated bank your money is safe and secured by the deposit guarantee.
Usually you pay annual fees in Danish banks when you open an account, there can be fees on transfers and paying your bills and markups when you use your card in other countries.
In Lunar there are no recurring annual fees or signup fee on your account and card.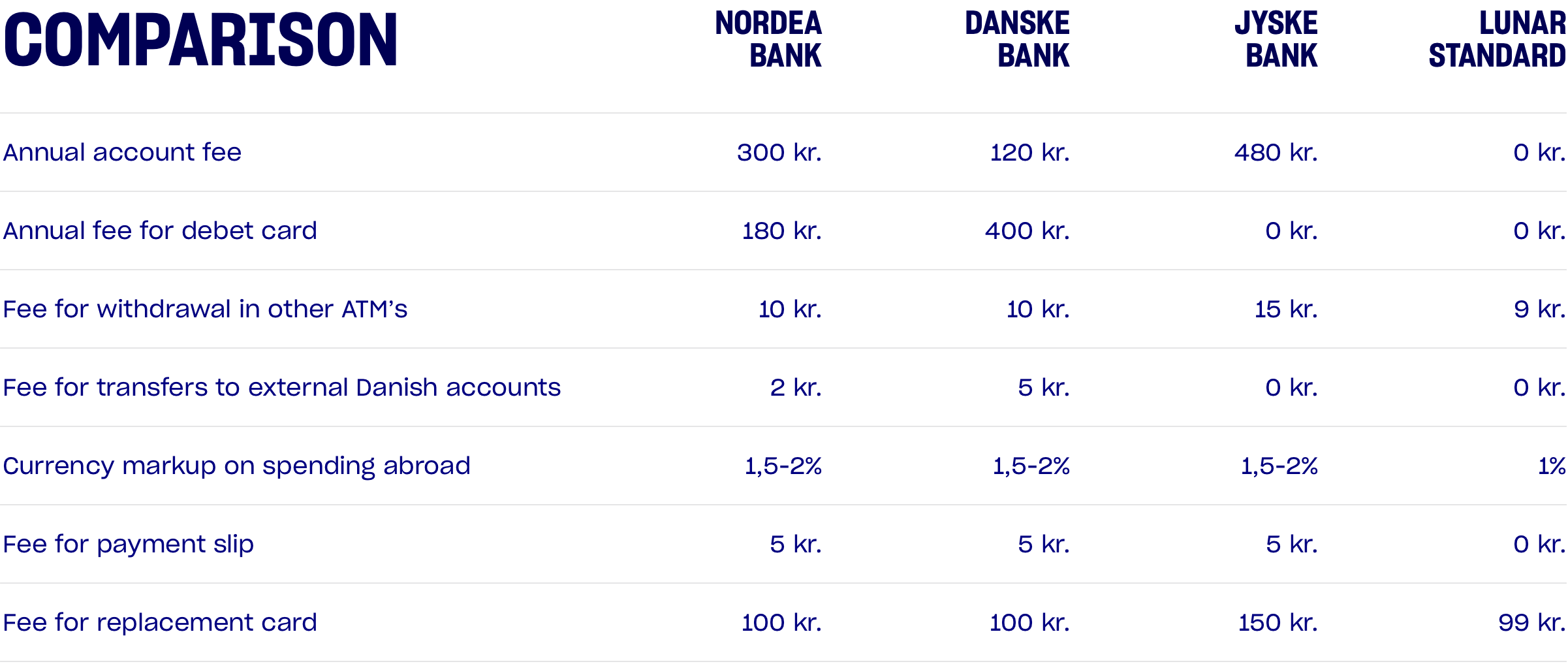 Lunar has compared prices at www.basalbetalingskonto.dk, managed by Finance Denmark, the business association of Danish banks, April 5 2020. Prices regarding currency markups and replacement cards are collected from websites from Nordea and Danske Bank April 5 2020.
Why do non-citizens need a Danish bank account?
You need a Danish bank account to get your salary and receive payments from the public sector like tax refunds, student loans and subsidies. That's all made to the Nemkonto - or Easy account. You assign a normal bank account as your Nemkonto. In Lunar you can do it directly in the app.
Under "Products" you simply choose "Move Nemkonto" - and voila, you'll get all your payments into your Lunar account.
Read more about Nemkonto here.
What you need to get your Lunar account
To get you started with your bank account and black Visa card you need to apply in the app.
Signup using your NemID (Denmark's common logon solution, read more about it here)
You also need picture ID like a passport or driver's license
Who can apply?
We keep adding more countries to our list of users, but for now we accept most applications from EU citizens, +18 years old, living in Denmark with a NemID.
Upgrade your banking experience - no markups on foreign spend
If you need to take banking to the next level you can get Lunar Premium: Three bank accounts and exclusive cards to manage your money, no markups on spending abroad and a first class travel insurance included. 
Choose a card that matches you - Silver, Rose Gold or Gold - and take banking to the next level. Choose Lunar Premium in the app.